Regular price
Sale price
$12.99 USD
Unit price
per
Sale
Sold out
Is Jane Austen the newest member of the Vampire Book Club?
What more could a diehard fan ask for? Except that Jane is undead and unamused…

To bookshop owner and witch Quinn Callahan's delight, Jane Austen shows up for the late-night Vampire Book Club in Ballydehag, Ireland. Quinn's thrilled and aching to ask her favorite author all the questions every rabid reader has about Jane's books, especially Pride and Prejudice. But Jane isn't in Ballydehag on a social call. She's on a mission to stop the latest movie version of her most famous book from being made. Having Pride and Prejudice turned into a pornographic film is too much for the undead author to bear.

Dermott Lynch ditched Ballydehag seventeen years ago for the bright lights of Hollywood, leaving behind at least one broken heart and some very bad feelings. Now, he's back, flashy and full of himself, wowing the townsfolk, and scouting locations for his movie, though it's obvious he's never read a single page of Pride and Prejudice.

While excitement ripples through the locals at the prospect of having a movie shot in a village that doesn't see much excitement (in daylight, anyway), the vampires living at Devil's Keep are far from impressed. They prefer to keep Ballydehag quiet and remote. And Dermott Lynch could ruin it all.

Quinn, Jane, Lochlan Balfour, and his fellow vampires are determined to block this unsavory character from besmirching the classic novel. But as dark feelings grow, rather than a porno, the movie could end up being a murder mystery.

In Want of a Knife is book 5 in the Vampire Book Club series, which promises quirky characters, humor, and a touch of romance, but no swearing, blood, or gore. Each book can be read on its own. "I've read my way through this series and escaped my mundane working life for the magic of an Irish village with pleasure." *****
Prefer an ebook?

For ebook versions, please see Amazon, where all the ebooks in the series are available on Kindle Unlimited.
FAQs

~Paperbacks~
*Do you ship worldwide?
Yes!
We're able to print and ship worldwide to all countries which are not currently embargoed by the UK Government. Our printers offer a range of tracked and untracked services to help get your books to the right destination.

*How much does shipping cost?
Shipping costs are calculated at checkout, as it depends on what you order.

*How long will it take to receive my book?
It depends on where you live. I'm an independent author, so I can't offer next day delivery.
All of my books are printed and shipped on demand by BookVault, who are based in the UK and the US.
Within the US, orders will be shipped within 5 days and delivered by USPS/UPS.
For shipments in the UK, our printers use Royal Mail, FedEx & UPS and are shipped within 72 hours.
For shipments anywhere else, our printers ship by FedEx or The Delivery Group and delivery may take up to 14 days.

*Why should I buy directly from you, rather than go to a big retailer with free shipping?
Buying directly from me means that much more of the money from the sale goes into my pocket, rather than into the coffers of a massive corporation, who take a big cut from every book they sell. They also don't pay me my royalties for months, whereas if you buy from me here, I receive the payment straightaway. This means you are putting money straight into my writing and supporting me to write more books!

~Audiobooks~
*How will I receive my audiobook?
As soon as your order is confirmed you will receive an email from BookFunnel with a link to your audiobook(s). It should arrive at almost the same time as your confirmation email from this store.
If you haven't received your email containing your audiobooks within ten minutes, please check your spam folder.

*How do I listen to my audiobook?
1. Install the BookFunnel app on your Android, iOS, or Amazon Fire device.
2. Enter the BookFunnel Code listed below.
3. Tap Start Listening!
You can also listen in your browser for select titles from your BookFunnel Library.

*What do I do if I need help?
The friendly folk at BookFunnel are extremely helpful and a link to get support will be in your email along with your audiobook(s).

~Other~
*Can I find your books anywhere else?
You can also find my books on your favorite online bookstore, and you can ask your local library or independent bookstore to order them in for you.

*Why are your ebooks not sold on this site?
Currently, my ebooks are sold through Kindle Unlimited, which means that under Amazon's rules I am not allowed to sell these ebooks anywhere else. You can buy them from Amazon without being part of Kindle Unlimited.

View full details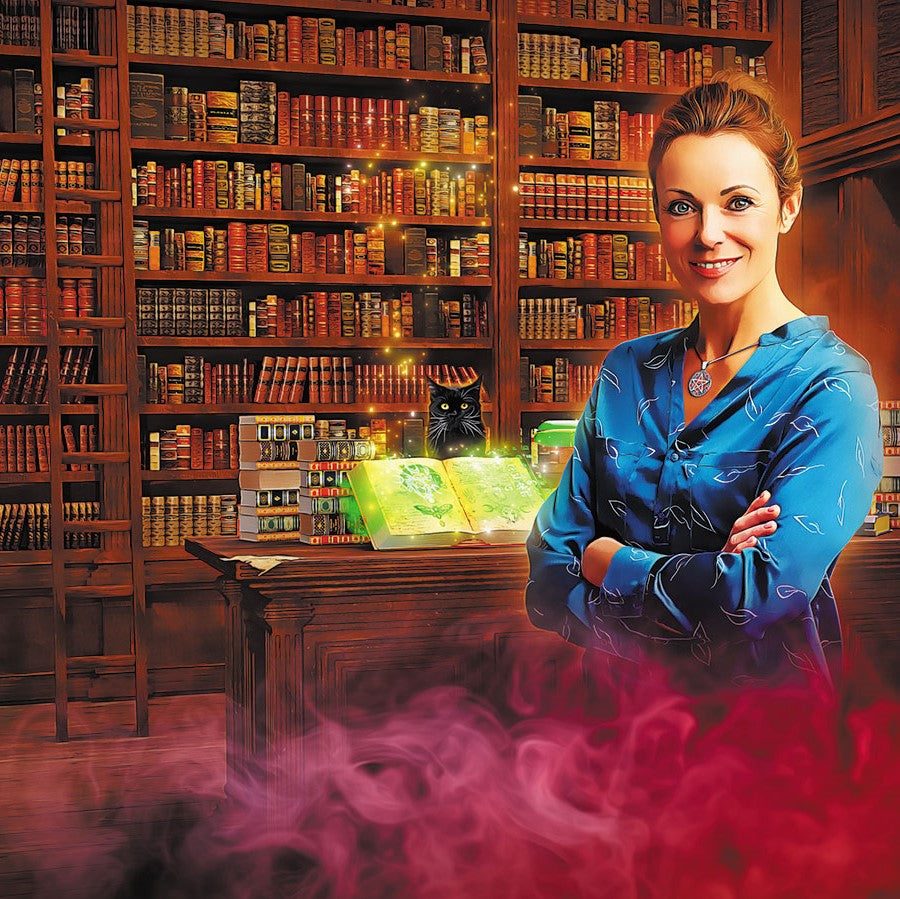 The Vampire Book Club
A paranormal cozy mystery series.
"A rollicking good read, with a delightful cast of characters, and some special guest appearances from The Vampire Knitting Club. Nancy Warren delivers a delightful new mystery series."
You will fall in love with this series about second chances, magical mayhem, and book club unlike any other.